Posted by
chuck
– July 3rd, 2009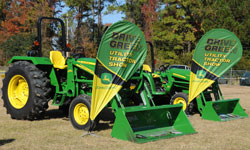 We're winding down our coverage of the John Deere Drive Green Utility Tractor Show and I thought I'd bring things full circle with an interview with Eric Hodson, John Deere Senior Writer, Public Relations. The photo is also from one of our first stops in Gainesville, FL.
Eric says that the program has been real successful. The opportunity to get the truck on the road and deliver these new utility tractors to dealers around the country provided customers the chance to get on them which is what it's all about. He says that one of the things that stood out for him was how the program got people into John Deere dealership who had never been there before. Attendance was way higher than they had hoped for overall. In fact, Eric says the program was expanded after the early success of the show stops.
When the show first started there was some limited availability on certain models so dealers were really happy to have some of these tractors on hand. The truck also provided a great promotional opportunity when it was parked outside dealerships.
Eric appreciates the staff and instructors who traveled along with the show around the country since it provided good consistency of information that was available at each stop. Looking ahead he says that they're changing the tires on the truck and hope to have it back on the road again in the future.
You can listen to my interview with Eric here: Interview with Eric Hodson