Comments Off

on Waterloo Boys Showed Up
Posted by
chuck
– May 6th, 2009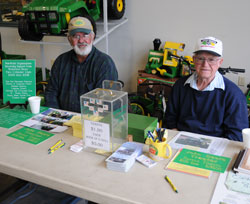 Besides the new utility tractors, you'll find others on location with the Drive Green Utility Tractor Show. Like in Oxford, PA at Atlantic Tractor where the Waterloo Boys Rough and Tumble Club had a 1948 John Deere "M" on display. Harvey and Tom were on hand with a charitable raffle which they said is their 17th year doing it.
You can listen to them talk about the Model M and the Waterloo Boys. Harvey says the club was formed in 1991 as part of the National 2-Cylinder Club. He says they want to keep the heritage of the 2 cylinder tractor alive and likes the contrast of them displayed alongside new ones. He says the their raffle tractor is in high demand to be displayed at a variety of events.
I asked them what they think of the new tractors. They've looked at them and even have "some in the shed." Harvey says they're his "toys to play with." He says his pride and joy though is being able to show people how farming has been done in the past.
You can listen to my interview with these Waterloo Boys here: Interview with Waterloo Boys
Or you can watch the interview here: