Comments Off

on Presenting Some Presenters Thoughts
Posted by
chuck
– May 26th, 2009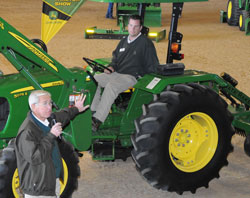 We've had the friendliest group of presenters at our Drive Green Utility Tractor Show stops that you're ever going to find. It's been a real pleasure to get to know these guys and I thank them for their hard work and fellowship. While I was at the Fresno Equipment stop I interviewed the two presenters who were there to get their perspective on how the show has been going.
First in the interview is Allen Ewards pictured here. He says they've "seen a little bit of everything." He talks about how the weather has played a big role in how many people attend at our show stops and like the weather he says, "You just never know." The feedback from people he's met has been very positive. He's met a wide cross section of people from first time customers to existing customers who want to see the latest and greatest. He's been able to help the dealers at our show stops since he's got the factory training which allows him to answer their questions too. He says that in general all the people he's met have had a very positive attitude. As he puts it, "Nobody is quitting in the farming business."
Joining us in the interview was Jim Stoffregen. Jim has teamed up with Allen at several locations across the country. One of the questions he gets hit with most is to explain the new numbering sequence which he says makes it so easy for people to know what kind of tractor they're looking at.
Even though the show has been put on in a variety of venues from dealer locations to large arenas he says they've all seemed to work well.
He's also seen that sales are happening even with concerns about the economy. Part of that may be that these new utility tractors are so versatile and can work in so many applications.
You can listen to my interview with Allen and Jim here: Interview with Allen and Jim

Fresno Equipment Photo Album