Comments Off

on Banker and Farmer
Posted by
chuck
– April 8th, 2009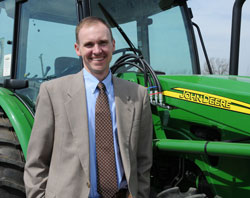 Marty Gibson is a banker and a farmer. He farms with his dad and his brother on about 219 acres. The have cattle and bale their own hay. He says he's not a current John Deere equipment owner.
He likes what he sees from John Deere though, including the variety. At our Danville, KY stop he was most interested in the 6D Series and 5E Series tractors and likes what he sees. Depending on the time of the year he says they would use a tractor to feed hay, roll hay and bush hog with it. He was one of our ride and drivers and thinks the 5E would best fit his needs because of the transmission options on it.
You can listen to my interview with Marty here: danville-gibson.mp3
The wind really kicked up in my interview with him in, so you'll hear a little of that in the middle.
Don't forget to visit our event photos: Drive Green Utility Tractor Show Event Sets.