Comments Off

on Truck Driver Diary
Posted by
chuck
– April 6th, 2009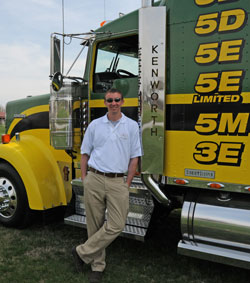 This edition of the Truck Driver Diary comes to you from Danville, KY.
Our newest driver of the Drive Green Utility Tractor Show truck is Tim Pol, standing here next to the 6D, 5D, 5E, 5M, 5E Limited and 3E Series numbers on the cab. I spoke with him at the end of our event in Danville, KY. He says he gets asked by people when he stops to let them take photos of the truck. I wonder how many pictures of this truck are out there.
Tim says he gets asked a lot of questions since people assume he knows everything since he's driving the big rig. His first road anecdote is pretty funny. He says that his first stop he had a kid come up to him just let him to know that he didn't like John Deere. Tim says he should have given him a shirt and cap. I agree. He is an on the road evangelist for the brand!
You can listen to my interview with Tim here: danville-truck-driver.mp3
Don't forget to visit our event photos: Drive Green Utility Tractor Show Event Sets.