Comments Off

on Hay and Forage Equipment
Posted by
chuck
– March 27th, 2009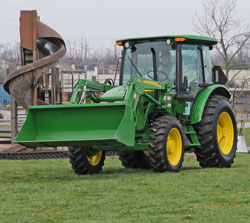 I guess having a few years under your belt running a tractor does show even when you get on a new one you've never driven before. Paul Napier came out to our Danville, KY stop and put several machines through a good workout. In fact, I think he would win the award for most riding and driving! Here's a picture of him on one of the new 6 Series tractors.
Paul made a point of saying he's in his 70's but still has a cattle operation and actively farms. He loves John Deere and has a 6420. He uses them for mowing, hay, feeding and general farm work. He says these new utility tractors are very convenient to use. He liked the pricing being offered by John Deere right now too. He recommends that people come out to one of our show stops and get on them and drive.
It seemed like many of the people I spoke with at this stop are involved in hay production and John Deere has a whole line of equipment to choose from.
You can listen to my interview with Paul here: danville-napier.mp3
Or watch him trying out some new equipment here: