Comments Off

on Hunter Applications of Utility Tractors and Gators
Posted by
chuck
– March 10th, 2009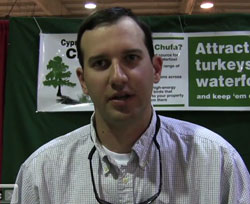 At the Dixie Deer Classic we interacted with a lot of hunting enthusiasts. One of the exhibitors was Donny Lassiter, Lassiter Farms. He was promoting their CyprusKnee Chufa product.
Donny says that he owns a variety of John Deere equipment for use on their farm. He says that what he likes about John Deere is the dealer organization that's always available to help out. He says hunters will find the new equipment useful for putting in food plots. The smaller machines allow you to get in and out of tight places. Gators especially allow you to get around on your property and see what's going on. They even allow you to pull small sprayers.
I liked the idea of using the Gators for hauling a successful hunting harvest instead of the manual labor alternative.
You can listen to my interview with Donny here: drive-green-raleigh-for-hunters.mp3