Comments Off

on 3E Series Tractor Presented in Ft. Worth
Posted by
chuck
– February 7th, 2009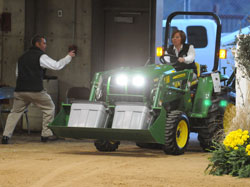 With the signal to go, the new 3E Series Tractor made its debut in Watt Arena at the Ft. Worth Stock Show & Rodeo. This was the first tractor in the lineup for the show, following mowers and the new Gators.
I had to leave my camera on a wide shot during the show but I'll have more video clips and interviews coming up soon.
You'll hear a reference to some "gifts" during the presentation. That was because periodically during the show our presenters would throw t-shirts into outstretched hands of our audience. They were a big hit.
You can listen to the presentation here: drive-green-ft-worth-3e.mp3
Or watch the presentation here: