Comments Off

on What Happened in Redmond and Salem, OR
Posted by
chuck
– June 13th, 2009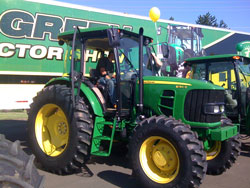 Here are the latest updates from Sarah Ruth, Reno Branch, John Deere.

After finishing up the state of California, the caravan traveled to Redmond and Salem, Oregon. Floyd A Boyd hosted their Drive Green event in conjunction with their Grand Opening celebration in Redmond while Fisher Farm and Lawn hosted their event in Salem on Memorial Day weekend.
Redmond:
Central Oregon is known for small and commercial hay tools. Because of the cattle, equine and hay markets, the Utility Tractor lineup are ideal for traditional farms and cattle operations, small part time producers, as well as large property owners. The 5E-Limited Series tractors as well as the 6D are gaining popularity with producers because of their cost efficient and basic options for their everyday needs. One of the main products produced in western Oregon is a high quality alfalfa, and our full line of utility tractors performs well in this market.
A special thanks to Dan Borchard and his employees covering Floyd A Boyd's five store operation.
Salem:
Somewhat different from Redmond, the producers around Salem are primarily focused on grass seed production, large scale nursery production, small row crops, berries and vineyards. Traditional farmers in the Willamette Valley produce a diversified crop for Americans. The complete line of John Deere Utility Tractor's fit the needs of producers in this area, especially the 5E-Limited and 6D. Competitors have been successful in the past with lower specification tractors, but our new lineup provides new opportunities for the cost conscious buyer.
A special thanks to Jake Barge and staff at Fisher Farm and Lawn, Territory Manager, Kurt Druffel and Territory Customer Support Manager, Bob Emanaul for their assistance in hosting and executing the Drive Green event in Salem, Oregon during their Memorial Day weekend.
These events provide a great opportunity to showcase the Frontier implements in addition to our Utility Tractors. Whether your are a first-time buyer or an experienced operator, our Utility Tractors are easy to operate and deliver excellent torque and usable power without sacrificing fuel economy; providing More Deere for Less Dough. The equipment featured on this caravan is ideal for property owners, part-time producers, traditional producers, livestock operations, commercial landscapers as well as government and municipalities. As you can see, whatever the chore or project, John Deere has a tractor for you to get the job done. We look forward to sharing more information as well as the features and benefits of our new John Deere Utility Tractors at any of our upcoming shows near you. In the meantime, more information about the products featured can be found online at www.deere.com
Thanks and see you down the highway!