Comments Off

on Farming In The Northwest
Posted by
chuck
– May 27th, 2009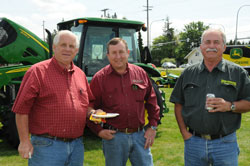 We have had a great event here today at North Washington Implement in Lynden, WA. The weather has been picture perfect. And so I took a lot of pictures.
In this one you can see Dick Bedlington (left) who is a local farmer. I got to speak with him after he enjoyed one of the hamburgers being served for lunch.
Dick says he farms about 2,200 acres that includes potatoes and grain. He came out to look at the new utility tractors. Dick has a lot of John Deere equipment on his farm. In fact, he says "We're all John Deere. Our company swears by John Deere." When it comes to the utility tractors he says they use them on a small farm for early germination seed which is a mostly two row application.
You can listen to my interview with Dick here: Interview with Dick Bedlington
All my photos from today's event can be found here: North Washington Implement Photo Album