Comments Off

on Managing The Delmarva Peninsula
Posted by
chuck
– April 24th, 2009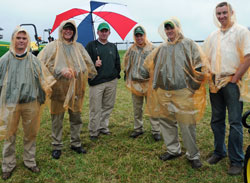 It was definitely a rainy day in Monkton, MD when the Drive Green Utility Tractor show displayed at My Lady's Manor Steeplechase race. Here's most of our crew who were on hand to answer questions and we really appreciate the people who stopped by even with the weather challenges.
One of them is Scott Brotherton, Territory Manager for John Deere. Scott and I hid out from the rain in the trailer of the truck for a short interview. Scott's territory includes the Delmarva Peninsula where the crops are very diverse, including row crops and specialty crops and of course horse farms. Scott's been in the territory for over a year and he says these horse owners are very dedicated to their animals and farms and this show stop provides a great opportunity to showcase the new John Deere tractors and utility vehicles for them. The hay tools like the rotary cutter and square baler we had on display would be other good examples of equipment that's available to large property owners, especially those who cut their own hay.
You can listen to my interview with Scott here: drive-green-monkton-brotherton.mp3
Don't forget to visit our event photos: Drive Green Utility Tractor Show Event Sets.